Post by HARD ROCK UNIVERSE on Jan 10, 2008 11:15:36 GMT -5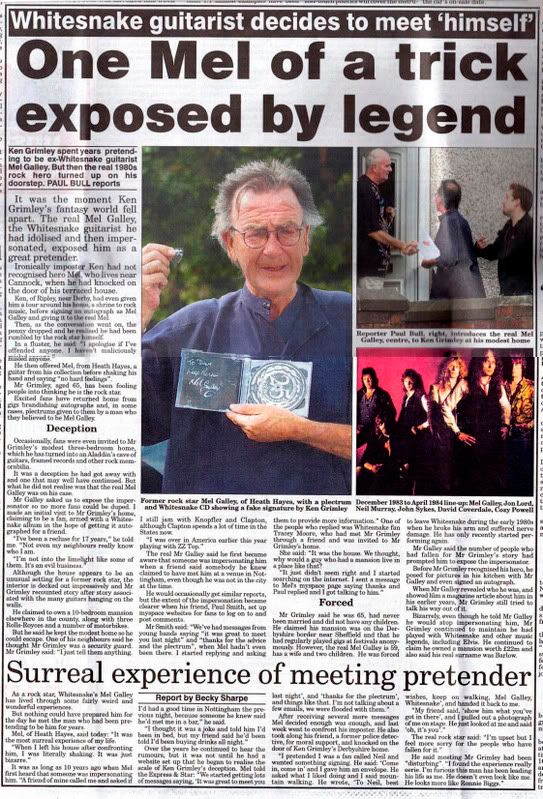 Rock fanatic Ken Grimley has been visiting live music venues and signing autographs pretending to be former Whitesnake guitarist Mel Galley. But his fantasy world was shattered this week when the actual 1980s rock hero turned up on his doorstep to confront him.The real Mel Galley wanted to know why Mr Grimley had been deceiving people, so Evening Telegraph reporter Paul Bull brought together the two 'Mels'.
It was the moment Ken Grimley's fantasy world fell apart.
The real Mel Galley, the man he had idolised and then impersonated, exposed him as a fraud.
Ironically imposter Ken had not recognised hero Mel when he had knocked on the door of his terraced house in Ripley.
Ken had even given him a tour around his home, a shrine to rock music, before signing an autograph as Mel Galley and giving it to the real Mel.
Then, as the conversation went on, the penny dropped and he realised he had been rumbled by the rock star himself.
In a fluster, he said: "I apologise if I've offended anyone. I haven't maliciously misled anyone.''
He then offered Mel a guitar from his collection before shaking his hand and saying "no hard feelings".
Mr Grimley, 65, has been fooling people into thinking he is the rock star.
Excited musicians have returned home from gigs brandishing autographs and, in some cases, plectrums given to them by a man who they believed to be Mel Galley.
Occasionally, fans were even invited to Mr Grimley's modest three-bedroom home, which he has turned into an Aladdin's cave of guitars, framed records and other rock memorabilia.
It was a deception he had got away with and one that may well have continued. But what he did not realise was that the real Mel Galley was on his case.
Mr Galley asked the Evening Telegraph to expose the impersonator so no more fans could be duped.
I made an initial visit to Mr Grimley's home, claiming to be a fan, armed with a Whitesnake album in the hope of getting it autographed for a friend.
"I've been a recluse for 17 years," he told me. "Not even my neighbours really know who I am.
"I'm not into the limelight like some of them. It's an evil business."
Although the house appears to be an unusual setting for a former rock star, the interior is decked out impressively and Mr Grimley recounted story after story associated with the many guitars hanging on the walls.
He claimed to own a 10-bedroom mansion elsewhere in the county, along with three Rolls-Royces and a number of motorbikes.
But he said he kept the Ripley home so he could escape. One of his neighbours said he thought Mr Grimley was a security guard.
Mr Grimley said: "I just tell them anything.
"I still jam with Knopfler and Clapton, although Clapton spends a lot of time in the States now.
"I was over in America earlier this year playing with ZZ Top."
I eventually left the house with the Whitesnake album he had autographed as Mel Galley and a plectrum he claimed to have used while playing with the band.
The real Mr Galley said he first became aware that someone was impersonating him when a friend said somebody he knew claimed to have met him at a venue in Nottingham, even though he was not in the city at the time.
He would occasionally get similar reports, but the extent of the impersonation became clearer when his friend, Paul Smith, set up myspace websites for fans to log on to and post comments.
Mr Smith said: "We've had messages from young bands saying 'it was great to meet you last night' and 'thanks for the advice and the plectrum', when Mel hadn't even been there.
"I started replying and asking them to provide more information."
One of the people who replied was Whitesnake fan Tracey Moore, from Mansfield, who had met Mr Grimley through a friend at the Anchor Inn in Oakerthorpe.
Mrs Moore, her husband, Peter, and two friends from the Black Aces motorcycle club were invited to Mr Grimley's home and became suspicious.
She said: "It was the house. We thought, why would a guy who had a mansion live in a place like that?
"It just didn't seem right and I started searching on the internet. I sent a message to Mel's myspace page saying thanks and Paul replied and I got talking to him.
"The real Mel then invited me to see him and he was brilliant.
"At the time I was gutted and disgusted that someone could pretend to be Mel Galley to people who were true fans of Whitesnake."
Mr Grimley told me he was 65, had never been married and did not have any children. He claimed his mansion was on the Derbyshire border near Sheffield and that he had regularly played gigs and at festivals anonymously.
However, the real Mel Galley is 59, has a wife and two children and lives in a house in Cannock.
He was forced to leave Whitesnake during the early 1980s when he broke his arm and suffered nerve damage. He has only recently started performing again.
Mr Galley said the number of people who had fallen for Mr Grimley's story had prompted him to contact the Evening Telegraph to expose the impersonator.
Before Mr Grimley recognised his hero, he posed for pictures in his kitchen with Mr Galley and even signed an autograph.
When Mr Galley revealed who he was, and showed him a magazine article about him in his earlier years, Mr Grimley still tried to talk his way out of it.
Bizarrely, even though he told Mr Galley he would stop impersonating him, Mr Grimley continued to maintain he had played with Whitesnake and other music legends, including Elvis and Eric Clapton. He also continued to claim he owned a mansion worth £22m and also said his real surname was Barlow.
The real rock star said: "I'm upset but I feel more sorry for the people who have fallen for it."
Mr Galley said meeting Mr Grimley had been "disturbing".
"I found the experience really eerie. All I wanted to do was get out of the house.
"I'm furious this man has been leading his life as me.
"I don't wish him any harm but he needed to be shamed so he can't do it any more."